An initiative of the Great Commandment Network and the Acts 2 Journey
To help take any church to the NEXT LEVEL
People are connected through love and trust
Non-believers feel safe and welcome
The community values your presence
Members take ownership of the mission
How are we seeking to address those issues?
The Church Mentoring Journey
This Church Mentoring Journey takes a relational message
of how we are Called 2 Love (from the Great Commandment Network);
and pairs it with the practical methods and strategies provided by the Acts 2 Journey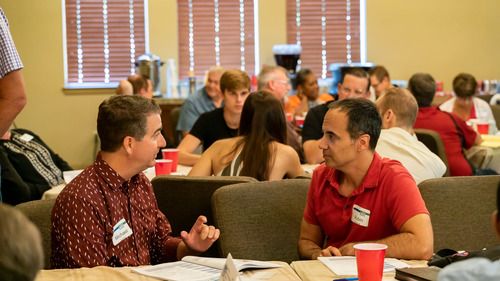 5 Sessions over the course of 18 months where pastors experience this
life-changing message and then impart it to their vision teams, leadership, and congregation.
Churches will experience this message through 12 key Bible passages that will help reshape the methods and strategies used to engage in the mission of Christ.
What Will You Get Through This Journey?
Over 18 months you will gather together for both "Pastor Training" as well as "Pastor & Vision Team Training"
The 5 Sessions will cover these areas of church health:
1. FELLOWSHIP (Session 1)
2. DISCIPLESHIP (Session 2)
3. WORSHIP (Session 3)
4. SERVING (Session 4)
5. EVANGELISM (Session 5)
It's so much more than an event, it's a process
The IMAGINE Video Series Course
This video course, with its accompanying workbook, is designed for all types of small group gatherings. Whether it's your weekly home group, your staff leadership team, or your volunteer team members, this course will help your group become more connected and serve with greater impact.
Have you ever wondered what are the strengths and growth-areas of your congregation? Through this journey you will receive access to our assessment tool called, The Spirit-empowered Faith Assessment. This assessment is designed to help measure how an individual is doing at 4 major categories of the Christian life: Loving the Lord - Living His Word - Loving His People - Living His Mission. This type of data will help you determine the areas that need increased focus and attention for your congregation.
"Insights" Data to YOUR Community
Knowing the needs of your neighborhood is an important first step in being able to serve those needs. Through powerful data made available to you through this journey, you will gain access to information about the specific community your church serves. This type of data will inform the kinds of workshops and outreach events your church puts on for the community.
Ready to Get Started?
Find the Journey in YOUR City!
Training content for Facilitators and Pastors
on the Church Mentoring Journey